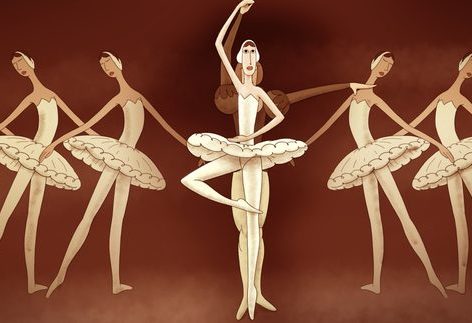 Russian Animation program consists of the best works from the program of SuzdalFest Animated Film Festival. Russian Animation program is characterized by its special warmth and comfort, while competing with other programs in drama and versatility.
Program:
From the Museum's Viewpoint, Director: Platon Infante (Russia)
Promotional video for the Pushkin State Museum of Fine Arts.
7 Kids: Sergey Kapkov (Russia)
A merry flipped take on the famous fairy tale THE WOLF AND THE SEVEN KIDS.
As My Grandad Sai: Aleksandra Deeva (Russia)
The story about my great-grandfather, "sketched" from the words of my grandmother.
Rain under the Mountain: Evgeny Fadeev (Russia)
High in the mountains Shepherds watch the work of the clouds. The meteorologist monitors the weather forecasts and signals the Shepherds about the necessary changes in the weather. The Villager lives at the foot of the mountain, and the Shepherds sometimes help her to water her vegetable garden…
The Duck and the Kangaroo: Elizaveta Skvortsova (Russia)
A story of one infatuation
Merry Grandmas: Natalia Mirzoyan (Russia)
Masha is eight years old, and she really wants her parents to take her with them to a merry New Year's party. But instead, Masha is sent to celebrate the New Year with her grandmother.
He Can't Live Without Cosmos: Konstantin Bronzit (Russia)
This is a story about a mother and a son. And also about fate and human destiny.
The Mistress of the Copper Mountain: Dmitry Geller (Russia)
There is a special culture in the Urals — a mining one. It developed around mines and factories that mined and processed huge deposits of gemstones, ores, and metals. Everyone who was born here has a connection with mountain culture, they belong to a specific nationality — Uralian, and skin color or eye shape are not among its nationality characteristics. Like any other culture, it has its own gods. In the Urals rules the Mistress of the Copper Mountain. She controls underground treasures, she is the keeper of mining profession mysteries and secrets. And each god demands their own sacrifices.
Boxballet: Anton Dyakov (Russia)
The contrast between the gross-external and the sensual-internal, the opposition of the form to the content, the power of influence of one on the other and the possibility of their mutual influence, all these questions, which refer us to the most important philosophical problem — "to be and to seem", are key in understanding this story.