Volunteer
in the FILM FESTIVAL Team
Volunteers are people who help with the annual festival organization free of charge. They have become a part of our family, a very important and indispensible component of our complicated and painstaking process. Their work significantly impacts on the festival image. Help of our volunteers is important for organization of day-to-day running of the festival with a very busy schedule. Their enthusiasm, energy and creative spirit are invaluable contribution to the artistic world of our festival.
The festival is a source of many new things – new work experience, new acquaintances, a chance to meet cinema professionals and audience, discover new films and maybe even find your future profession.
THIS IS MUTUAL COOPERATION BASED ON GOODWILL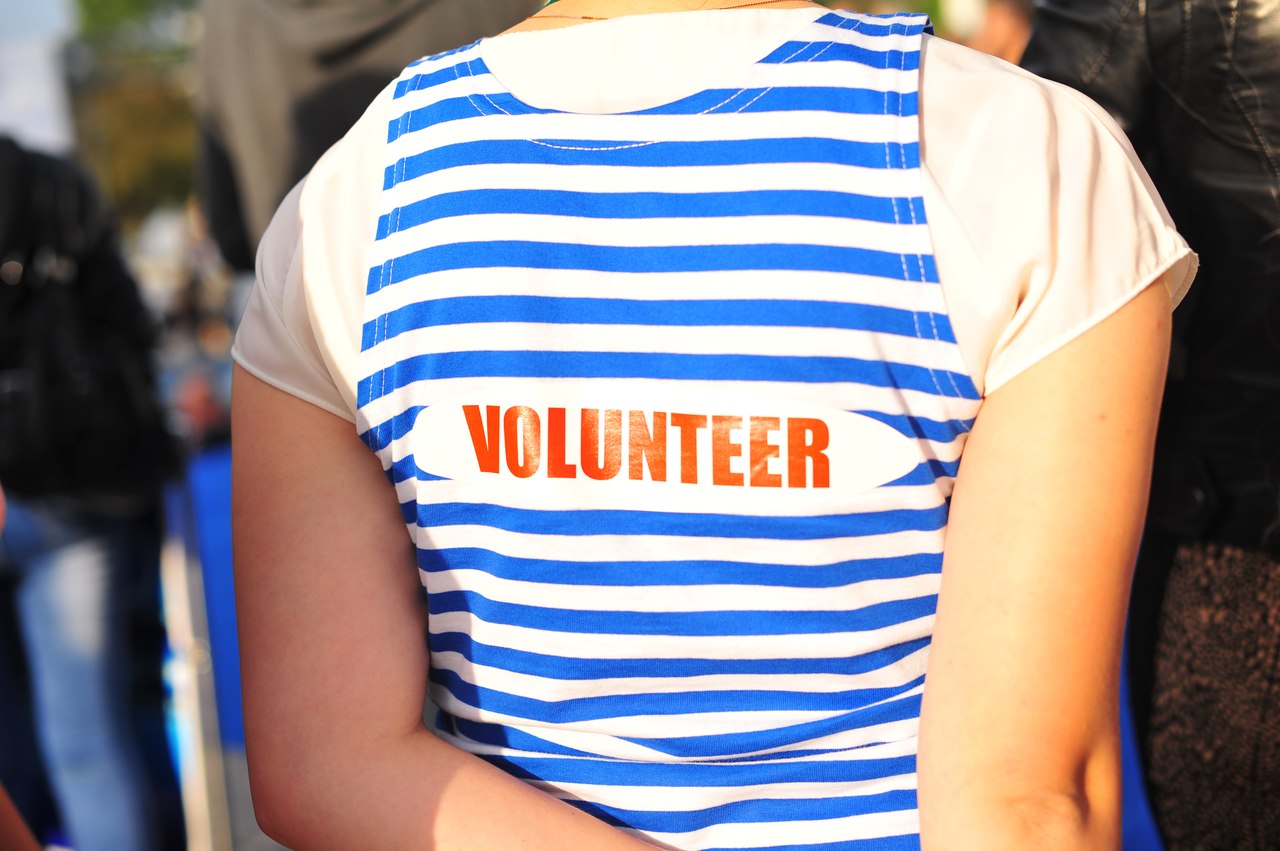 Volunteer Team of the Pacific Meridian
2011
The festival has extensive experience in selecting, training and organizing volunteers' work since 2003. This is a serious and challenging task both for us, and for our volunteers that requires a certain level of multitasking, fast-pace working and observing deadlines. The festival team runs a rigorous volunteers selection and training process before they start working. Every year we receive about 100 applications from those who want to become a volunteer of the Film Festival, but only thirty people join the team.
In all the years of the festival's existence more than 600 volunteers gained an invaluable experience, learned to plan and manage their own projects. Sometimes our volunteers become potential employees, and many of them are still working in the film industry. And it goes without saying that all volunteers of the Pacific Meridian are passionately in love with cinema. 
Volunteer Team of the Pacific Meridian
2009
From April 1– July 10, 2021 we collect applications from everyone who wants to become a Volunteer at the Festival this year.
You need to fill in the Application Form on the festival website.
After your application is registered, you will be scheduled for an interview and informed about its format and date beforehand. 
The festival management will announce the interview results before July 15.
TRAINING AND PREPARING FOR WORK
Three weeks before the festival a time and place for a general meeting and training of all volunteers will be announced. During a three-day training process you will get to know each other and the festival team, learn about the festival work and program, take language and psychological tests, try your hand at being tour guides. 
Upon completing the training program all volunteers start their work. They are assigned different roles and responsibilities within different services of the festival. All preparations for the festival start two weeks prior to the opening ceremony. The whole process is divided into the preparation period in the office and the festival itself. As the opening date approaches, the workload and time at the office will increase from several hours to a full work day.
It is important to become a team while preparing for the festival. It is essential for a well-coordinated work of the festival and its atmosphere.
After the festival we have a get-together to express mutual appreciation, celebrate our victories and exchange opinions.
If your performance at the festival is successful, you will receive a Volunteer Appreciation Certificate that will become a valuable addition to your resume. A volunteer receives a letter of reference and a certificate that lists all personal achievements and is signed by the festival management. The Certificate may be issued in two languages.
If necessary, this volunteering may be officially registered as an internship for your educational institution.
Volunteers take part in every step of the festival organization process, starting with preparing for the opening ceremony and meeting guests at the airport and finishing with the final screening on the day of the festival closing.
Volunteers help the following services: 
Accreditation and Complimentary Tickets Service

Hospitality and Transportation Service

Film Screening Service

Press Center Service

Information Service
WHO CAN BECOME A VOLUNTEER?
If you are at least 18 years old, physically fit, work well under pressure and handle responsibility well, you are fluent in English (knowledge of an Asian language is very much appreciated), love cinema, want to gain invaluable and memorable experience, look at the behind-the-scenes festival organization, make new friends and become part of a great event – join in!
People living in other cities or foreigners can also apply if they have substantial knowledge of Russian and are going to stay in Vladivostok at the time of the festival. 
WHAT SKILLS DOES OUR VOLUNTEER NEED?
Competent Russian and good communication skills

Self-discipline and reliability

Time-management skills and ability to prioritize

Punctuality

Working well under pressure

Adaptability and quick thinking and decision-making abilities

Good command of the English language (knowledge of any other foreign language is also appreciated)

Readiness to follow instructions and work in a team

Enthusiasm and passion for work
We always welcome new ideas and ability to put them into practice! 
WHAT ARE THE BENEFITS OF THE FESTIVAL?
Stepping out of your comfort zone
«Nothing fires up your mind or refreshes your soul more than a complete change of your life mode. Volunteering can bring you astonishing opportunities: immersion into new contexts, synthesis with previously unknown cultures, critical restructuring of thinking while code-switching from you native tongue to a foreign one, and expansion of your circle of friends.»
The fim festival is not only about watching films. There are workshops, open discussions, exhibitions that can become an inspiration for those who love cinema or just be valuable for self-education. 
Socializing and new acquaintances
Meeting film industry professionals is a part of an intense work schedule of the festival. It is up to you to establish a further connection. Networking goes hand in hand with future professional success. 
Films you can only see at international film festivals
Festival work is very intense, interesting and demanding, but if you are good at time-management and are properly motivated, there is a chance to watch films and talk to their creators. Here we have films that go beyond conventional standards and are unlikely to be shown anywhere else.
And, certainly, every volunteer will be properly registered, uniformed and fed. For the time of the festival you receive an official Volunteer badge, our trademark striped shirt with the festival logo and meals.