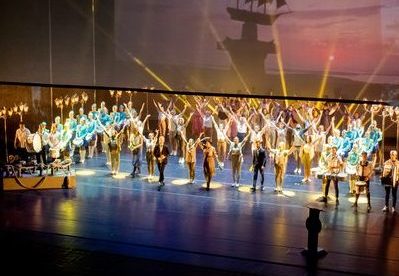 The long-awaited opening of the 18th Pacific Meridian International Film Festival of Asian Pacific Countries took place on October 10 at the Primorsky Stage of the Mariinsky Theater. Renowned filmmakers and promising debutants greeted the audience during the blue carpet ceremony, which continued with the official opening ceremony.
As the hosts of the evening, actors Irina Cherichenko and Kirill Grebenshchikov, noted, 190 films from 49 countries are presented at the festival this year. Of these, there are three international premieres, seven world premieres, thirty Asian premieres and fifty-five Russian premieres.
At the beginning the audience was greeted by the director, screenwriter, People's Artist of Russia Andrei Konchalovsky, President of the 18th IFF. Despite his absence, Andrei Konchalovsky welcomed the guests of the festival in his video message:
– I am pleased that you gave me the opportunity to remain in the role of president online. And I am happy that no matter what, the festival will take place! – said the director.
Foreign guests of the festival – Jacqueline Bisset, Eric Roberts, Nastassja Kinski, Michael Madsen – also sent their video messages. The distance did not prevent them from saying kind words to everyone present and wishing the festival success.
The opening films of the Pacific Meridian were also presented. The director Oksana Karas and Sergey Machinsky brought DOCTOR LIZA, the drama based on real events, and the famous director Pavel Lungin brought his new ESAU whose world premiere will take place at the festival in Vladivostok. Additional screenings of the opening films will take place today, October 11, at the Okean Movie Theater.
A separate part of the evening program was dedicated to the 75th anniversary of the Great Victory. Especially for the Year of Memory and Glory in Russia, the festival will show A SIEGE DIARY by Andrey Zaitsev, the triumphant of the 42nd Moscow International Film Festival, and ORDINARY FASCISM by Mikhail Romm.
The second part of the ceremony traditionally presented the juries and awards of the festival. This year the main jury consists of Russian filmmakers: the film director Ivan I. Tverdovsky, the screenwriter Anton Yarush, the film critic Zara Abdullaeva, and the Chair of the jury, Program Director of the Kinotavr Open Russian Film Festival Sitora Alieva.
At the end of the ceremony the Prize of the Governor of the Primorsky Territory "9288 km" for outstanding contribution to world cinema was awareded to the Russian theater and film actor, film director and Honorary President of the festival Sergei Stepanchenko. Together with the Governor of Primorsky Krai Oleg Kozhemyako he hit the ship's bell, thus marking the official opening of the festival.